I would really appreciate a link on your site to PuppySites.Com! You could either use a text link or use one of our logos below. If you use one of the graphic logos, please copy the graphic to your own server. Please do not link directly to our server! Thank you!
Step 1) Add HTML to your webpage
Using one of our banners. Replace YOURDOMAIN.COM with the place you are going to upload our graphic:
-Or-
Using just a text link:
Step 2) Save one of our banners to your hard drive and upload to your server. Change the name of the "gif" file in the HTML above to what you save the file as. To save a banner, right-click on it and select "Save Picture As".
Banners Created By:
Designs By Trina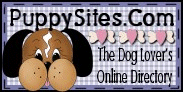 Banners Created By:
Original Country Clipart
by Lisa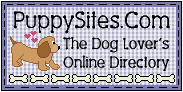 Find a bad link? Click HERE to submit it for removal!



Thanks For Visiting PuppySites.Com!
Click Here To Add PuppySites.Com To Your Favorites! 

Please send suggestions and comments to: mary@puppysites.com
The Fine Print:
© 1999-2014 MJZ Designs, LLC of all original written material unless otherwise indicated. 
Website Designed by Four Paws Web Design
No part of PuppySites.com may be copied or re-used without  expressed written permission.
Photographs are the copyrighted property of the original photographer. 
Graphics and photographs may not be copied, distributed, sold, or  used in any way without permission.
PuppySites.com was established May 15, 1999 
Disclaimer
Privacy Policy